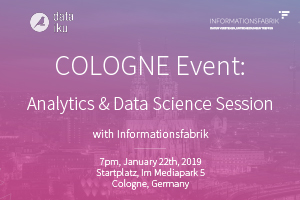 Analytics & Data Science Session
Dataiku und Informationsfabrik are hosting an exclusive event with sessions demonstrating the variety of ways data science can improve your organization.
Talk 1
Operationalization of Data Science. The Next Challenges.
In the first session, Greg Willis (Technical Alliance Manager at Dataiku) reviews the key things to keep in mind when you're working on your design-to-deployment pipeline underlying the specificities of Data Science Projects
Talk 2
The Transformation to Data-Driven Value Creation. Report from Zurich IT.
There is a huge potential in the insurance industry to generate business value from data. To exploit this potential, however, a broad-based transformation within companies is needed. In this talk, Dr. Tobias Rump (Head of Delivery Cross Functions & Data Analytics) will present the fields of action of the transformation (beyond the IT), give some examples of the implementation and report on experiences from the IT perspective.
Spaces are limited, so be quick to sign up!