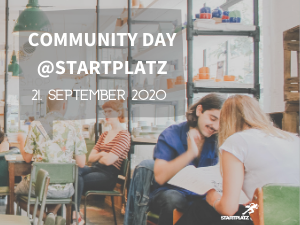 Open doors. Open minds. Join our community!
You are a new member @STARTPLATZ or on the brink of becoming one? Good decision!
Are you a STARTPLATZ veteran? Even better! Either way - you've come to the right place!
We dedicate a whole day to the core of STARTPLATZ - our community. For new members we offer insights to the workings of STARTPLATZ, tips on networking and feedback for existing business ideas. Founders, soon-to-be-entrepreneurs and everyone else is welcome to network or just enjoy the company of inspiring individuals.
Time
Happening
12 pm - 8 pm
Get your heart rate up @ the ConTrainer set up by TK on the MediaPlatz
2 pm – 3 pm

Get to know STARTPLATZ, shower us with questions & join the coworking tour (Room "Köln")

3 pm - 6 pm

Network. Network. Network. Talk to (other) founders & establish contacts

Want feedback on your idea? Head to room "Tel Aviv"

6 pm – open end
Drinks & More Networking
Diese Veranstaltung findet vor Ort statt!