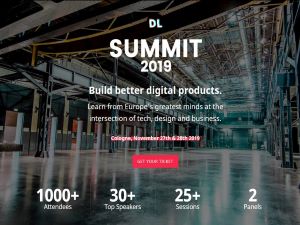 Build better digital products.
Learn from Europe's greatest minds at the intersection of tech, design and business.
The second edition of the Digitale Leute Summit is a two-day event for digital professionals in tech, design and product. On the first day we offer a range of full-day workshops with experienced coaches. These workshops give you a unique and hands-on opportunity to learn from industry leading experts.
On the second day the conference with up to 1.000 attendees and over 30 speakers will take place on three stages at a thrilling location in Cologne, Germany. The on-stage interviews, panels, fireside-chats and case studies provide deep insights into the tools, tactics and methods of professionals developing digital products in large scale environments. Learn how these individuals and organizations find unique solutions to their digital challenges and get pragmatic advice for your daily work. Browse last years experience: program, pictures, videos, speakers.
Spend time networking with inspiring thinkers and doers during their evening event & party. Like last year, they top off the conference with interactive art installations, an electronic live music performance, streetfood and drinks powered by ART@TECH.