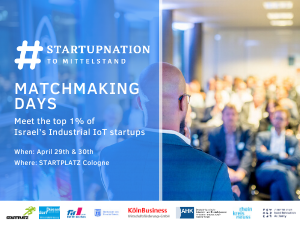 Meet the top 1% of Israel's Industrial IoT Startups
After a successful first round of #STARTUPNATION TO MITTELSTAND, initiating technical collaborations to boost innovation in manufacturing companies, we are ready for a second round of bringing Israel's most successful industry startups directly to the region Rhineland!
The #SNTM Matchmaking Days, on April 29th and 30th at STARTPLATZ Cologne, is not just another startup event, but a unique format that specifically brings together the best industrial IoT startups with ground-breaking Industry 4.0 technologies from Israel with corporates and medium-sized companies in the field of manufacturing from the Rhine-Ruhr region.
We bring together what belongs together
German "Mittelstand" is known for their excellence in manufacturing, research and export, while Israeli startups are known for their innovative, disruptive thinking and industry-transforming technologies. #STARTUPNATION TO MITTELSTAND, powered by STARTPLATZ, the Israeli Innovation Authority and The Israel Economic and Trade Mission, established a unique program accelerating innovation processes through collaboration between Israeli startups and German Mittelstand.
Why you should attend:
You are responsible for innovation processes in a manufacturing company
Get a glimpse into the future and trends of your industry
Learn about new business models shaping tomorrow's competitive landscape
Leverage networking sessions to identify growth opportunities for your business
Establish strategic relations with Israel's cream-of-the-crop innovators
April 20th - Startup Night
The stage of the evening belongs to the true heroes of the #SNTM initiative: 10 top ranked and cherry-picked startups will showcase their market-ready industrial IoT solutions and how they took the businesses of their customers to the next level. Further, you will receive exclusive insights about the innovation ecosystem in Israel as well as on the status quo and perspective of digitalization in Germany. During the networking sessions, there will be time for you to talk to the entrepreneurs and players of the Israeli ecosystem.
April 21st - Matchmaking Day
On the second day you will have the chance to individually explore potential business opportunities during 1-on-1 Sessions with the startups.
All startups are market-ready and have everything in place to bring innovation processes, in cooperation with you, to the next level through:
tech collaborations
ideation & co-creation
strategic investments
For more insights on what you can expect as a participant, check-out the recap of the #SNTM Opening Event in October 2019 or visit our website: https://www.startupnationtomittelstand.com/
Info
Eine kostenlose Stornierung ist bis zu 5 Tage vor Workshop-Beginn möglich, bei Stornierung danach fällt die volle Teilnahmegebühr zzgl. Mehrwertsteuer an.