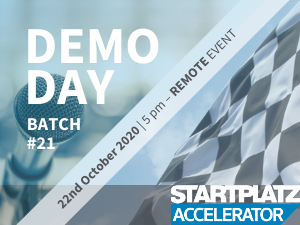 Demo Day of the 21st cohort from the STARTPLATZ Accelerator.
SAVE THE DATE - 22nd October 2020
The startups from the 21st cohort have been supported for 4 months at STARTPLATZ. On this milestone, the teams will present their businesses, tell about their development during the last months and their plans and give a summary about the complete program.
The teams of batch #21 are:
Audoora
Dgree.io
moebelmatch
payactive
ucura
yuccaHR
They will take questions from the STARTPLATZ crowd and other interested entrepreneurs and guests. Every guest can simply write questions to the Zoom-Chat and our moderator will present them to the presenting teams.
PLEASE NOTE: Due to Covid-19 the whole Demo Day will take place via Zoom Video Conference. You'll receive the Link to participate after registering your ticket for FREE.
This event is a REMOTE event. You'll receive the Link after registering.