This should be clear to everyone: The Internet and consequently the digital communication methods and networking are indispensable, neither from private life nor from the working environment. Now the digitalization enters the industrial field, this development is called "Industry4.0." The target is to make the industry efforts more efficient, productive and competitive through digital communication and networking. Not only will machines be connected (M2M-Networking), but also the improvement of connecting work force/labor will become increasingly important.
Industry4.0 plays a significant role for Germany  – as one of the leading industrial nations. It guarantees innovation, high productivity and growth in established industries, especially in the SME sector to continue in an international context to remain competitive.
Industry4.0 offers an even greater opportunity for the startup world. Innovative startups like BigRep, OptoForce or rise technology have the chance to develop and establish digital solutions in the immediate vicinity of big player of the industry in their own domestic market.
rise technologies GmbH is one of these startups which has set itself the goal to revolutionize the collaboration of industrial services. The technology developed connects technicians and field sales staff on smartphones, tablets or innovative data glasses (like smart glasses) with experts, allowing a video-based digital collaboration.The connection of a network of experts and service technicians enabled through the technology to solve complex technical problems in a faster and cheaper manner. This increases the quality of service of its customers. Ineffective calls or expensive trips are no longer necessary.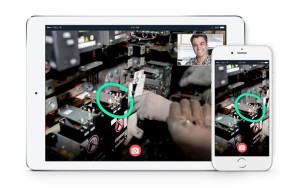 rise technologies are used in medical technology companies that use complex machines and need to be maintained. In many cases where maintenance is needed, there is no sufficient technical know-how of the service technician on site. The telephone support is cumbersome because technical experts have no chance to see the specific problem on site for themselves. Based on the live video image, the expert can see and understand the problem and give valuable instructions in real-time to solve the problem. This eliminates the hassle of long-lasting communication or the need for an expert to travel to the site of the problem.
Another interesting field of application is shipping. In most cases, it is impossible for the technical experts to get on site especially when ships are in the middle of the ocean. Rise technologies helps crew members to solve problems independently by working with live video. According to a study of BITKOM a value created potential of up to € 78 billion in 2025 can be expected Germany to be XX by the development of technologies in the Industry4.0 sector. The Industry4.0 movement is still at the very beginning, the potential usage/uses however is great. Therefore innovative ideas in this field will contribute to Germanys global competitiveness.
If you have an idea that you would like to develop in an inspirational and supporting startup environment, just apply for our scholarship program. Start your journey with us!
Quelle:
https://www.bitkom.org/Publikationen/2014/Studien/Studie-Industrie-4-0-Volkswirtschaftliches-Potenzial-fuer-Deutschland/Studie-Industrie-40.pdf